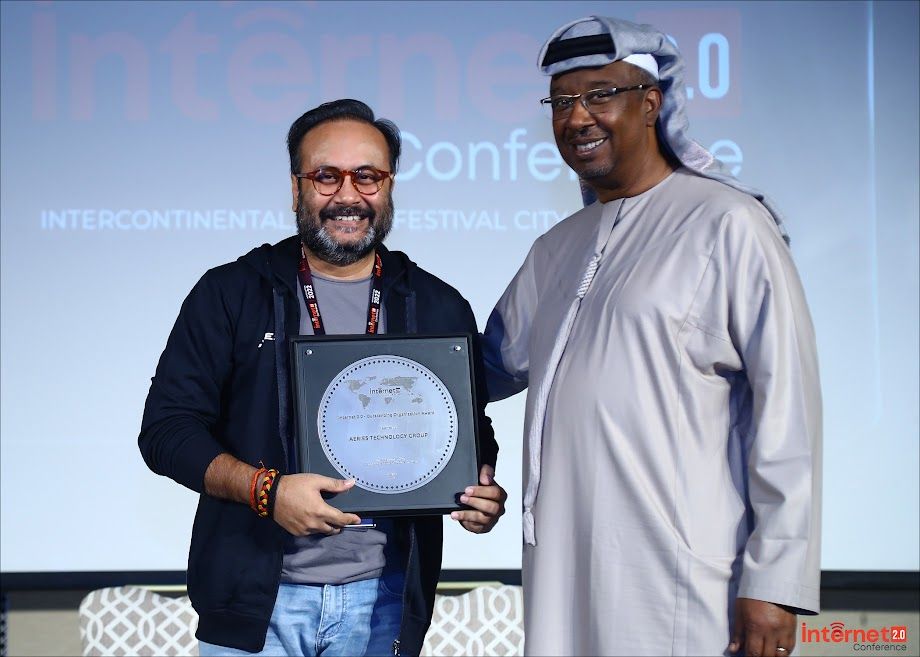 Dubai, UAE — December 20, 2022: The Internet 2.0 Conference, a global technology conference, awarded Aeries the "Outstanding Organization Award" in the Technology category at its Winter Edition held from December 16 -18, 2022, at the InterContinental Dubai Festival City, UAE. The award was received by Dr. Jai Vishwakarma, CTO of Products, on behalf of Aeries.
The Internet 2.0 Conference brings together leaders and experts in the fields of IT, cloud computing, machine learning, AI, robotics, blockchain, e-commerce, and more. The conference creates a platform for shared learning and accelerates development in these fields by encouraging mutual exchange of ideas. Aeries was evaluated based on the company's industry reputation, creative DNA, competitive edge, and strong leadership
"Winning an award at The Internet 2.0 Conference for the Technology category gives us global recognition and places us among the elite organizations who focus on innovation and best practices to deliver value and demonstrable business outcomes for our customers", says Dr. Jai Vishwakarma. This achievement was covered by Medium – a global website that publishes articles on various topics, including technology, data science, politics, and more. The full article can be accessed here.
About Aeries
Aeries Technology is a global professional services and consulting partner for businesses in transformation mode and their stakeholders including Private Equity sponsors and their portfolio companies with engagement models that are designed to provide the right mix of deep vertical specialty, functional expertise, and the right systems & solutions to scale, optimize and transform a client's business operations. Founded in 2012, Aeries Technology now has over 1,400 professionals on staff and counts a number of leading Private Equity sponsors and their portfolio companies as clients.
About The Internet 2.0 Conference
The Internet 2.0 Conference is a three-day international technology event that encourages cross-sector collaborations and the sharing of ideas. The Dubai edition targeted cutting-edge innovations and brought together leaders in tech, promising startups, and Fortune 500 companies.